THE OFFICIAL SEALS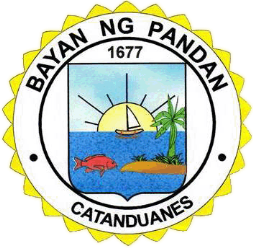 SEAL SYMBOLISM
The official seal of Pandan, Catanduanes was primarily designed to personify all the identifying qualities of the municipality of Pandan. It reflects the geographical location, the products that abounds in the municipality and the temperament and condition of the people.
TWENTY-SIX (26) RAYS :
represent the total number of barangays comprising the municipality.
1677 :
the year the Municipality of Pandan was established as a regular town.
SHIELD :
derived from the provincial seal of Catanduanes where the municipality belongs.
FISH :
represent lapu-lapu (lana) one of the most important products which abound in this municipality. Many fisheren sell this fish at much higher prices, this being a delicacy in five-star restaurants.
RISING SUN :
signifies that Pandan is located at the north-eastern part of Catanduanes.
ABACA :
the second most important product of the municipality which is planted in a large portion of its mountains and hills.
SEA :
represent the vast Pacific Ocean.
COLORS :
Light Yellow - is the color of the dawn (rising sun)which is seen in Pandan creeping above the vast Pacific Ocean.

Light Blue - signify peace and tranquility of the people living in the town known as Pandananons who are noted for their peacefulness and hospitality.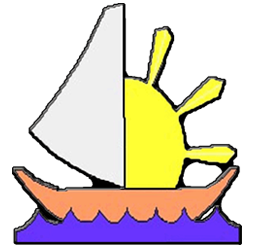 LAYAG PANDAN!
The Dinahit Logo
Yellow Sun - represent fire
White Sail - represent wind
Brown Dugout Canoe - represent earth
Blue Sea - represent water

The Dinahit logo constitutes the vital elements of life - fire, water, earth, and wind - in an intricate balance. The centrality of the Dinahit represents the core tradition of the Catandunganon that is in harmony with nature. The entirety of the logo symbolizes life (science), a way of life (culture), and technology (material culture) defining the essence of a people living in an island. The Dinahit Festival must promote life, protect the environment, nourish the local culture, and cultivate technology all in harmony toward the island's progress.